November 2022 minor patch note
We are happy to announce that we are launching a minor software update in the second part of November. The fix includes usability improvements and bugfixes. Moving towards the end of 2022 we will prioritize quality improvements and bug fixing on the software development side. We are currently working on the requirements specification of two bigger software development projects that we are hoping to start early 2023. These two projects are within the compliance domain and in machine learning and process automation.
Locking the event order in the risk assessment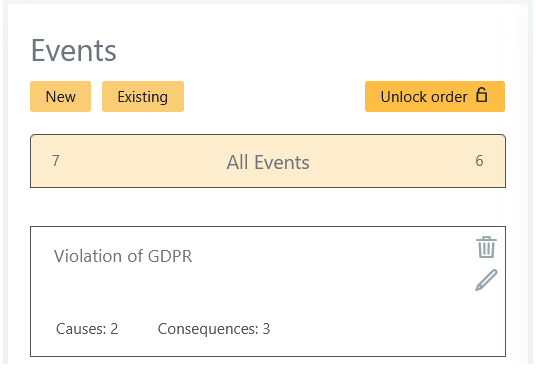 Unlock/lock button is available in the upper right corner

We have received a lot of feedback regarding the ordering of events in the risk analysis. The original concept was that the highlighted event is moved to the top to prevent excessive scrolling when working in complex risk assessments. However, this feature can be confusing when working in less complex assessments. We have therefore added a padlock button on the line of the "New" and "Existing" button. The order is now locked by default, but can be unlocked (highlighted event is moved to the top) by choice.

Icon changes

We have made two icon changes to improve usability. The looking glass for moving the admin user up and down the hierarchy has been exchanged with the house to indicate belongig. The logout button has changed color and direction when working with the main menu minimized.

Bug fixes

The bug causing Diri to lose the highlighted event and choose the first one when saving a treatment should now be fixed.

Excel export of the risk assessment portofolio now exports English variable names. Importing now supports English language for the System status, Users category, System access method, and Hosting variabes. The knowledge article on import and export will be updated shortly.

The bug causing an infinite logout loop when waking the browser from sleep/hibernation should now be fixed